Industrial Fixed FRP GRP Safety Ladder and Cage
Product Detail
Product Tags
FRP Pultruded Grating Availability
Light to weight
Pound-for-pound, Our pultruded fiberglass structural shapes are stronger than steel in the lengthwise direction. Our FRP weighs up to 75% less than steel and 30% less than aluminum – ideal when weight and performance counts.
Easy Installation
FRP costs on average 20% less than steel to install with less down time, less equipment, and less specialized labor. Avoid costly specialized labor and heavy equipment, and speed the construction process by using  pultruded structural products.
Chemical Corrosion
 Fiber reinforced polymer (FRP) composites offer resistance to a broad range of chemicals and harsh environments. We offers a full corrosion resistance guide to ensure the performance of its products in some of the toughest conditions.
Maintenance Free
FRP is durable and impact resistant. It will not dent or deform like metals. Resists rot and corrosion, eliminating the need for constant maintenance. This combination of performance and durability offers the ideal solution in numerous applications.
Long Service life
Our products provide outstanding durability and corrosion resistance in demanding applications, providing improved product life over traditional materials. The longevity of FRP products provide cost savings over the product's life cycle. Installed costs are less because of the ease of installation. Maintenance expenses reduce because there is less downtime in areas requiring maintenance, and the costs of removing, disposing, and replacing the corroded steel grating is eliminated.
High Strength
FRP has a high strength-to-weight ratio when compared to traditional materials like metal, concrete and wood. FRP gratings can be designed to be strong enough to carry vehicular loads while still being less than one-half the weight of steel grating.
Impact Resistant
FRP can withstand major impacts with negligible damage. We offers extremely durable gratings to satisfy even the most stringent impact requirements.
Electrically & Thermally Non-Conductive
FRP is electrically non-conductive leading to increased safety compared to conductive materials (i.e., metal). FRP also has low thermal conductivity (heat transfer occurs at a lower rate), resulting in a more comfortable product surface when physical contact occurs.
Fire Retardant
FRP products are engineered to have a flame spread of 25 or less as tested in accordance with ASTM E-84. They also meet the self-extinguishing requirements of ASTM D-635.
Our fiberglass ladders and ladder cages mounted on the sides of tanks and buildings are a common sight in a wide range of industries. Fiberglass ladder and ladder cage systems have been in use over 50 years in chemical plants and other corrosive environments. Even in complete immersion applications, fiberglass has outlasted aluminum and steel and required little or no maintenance.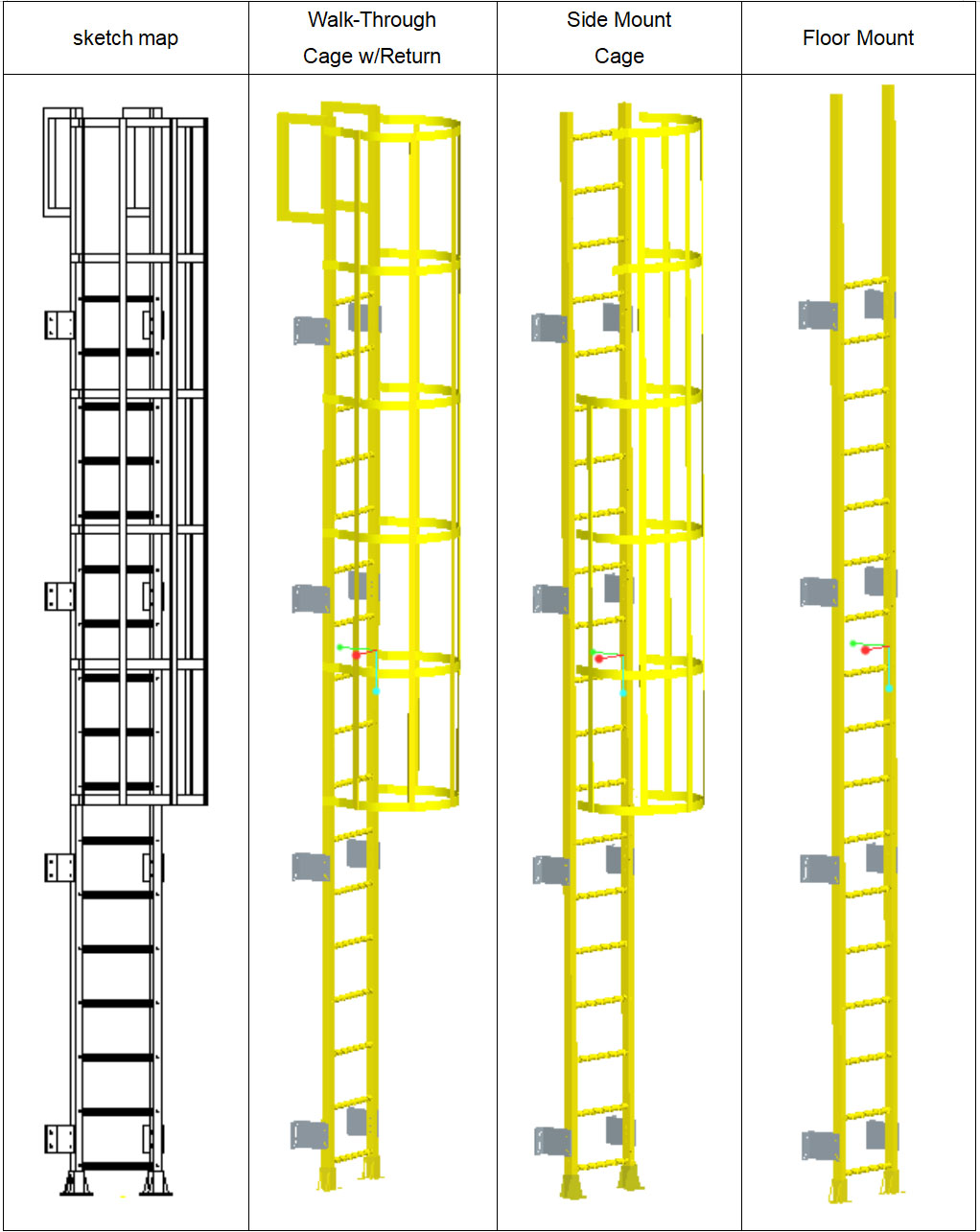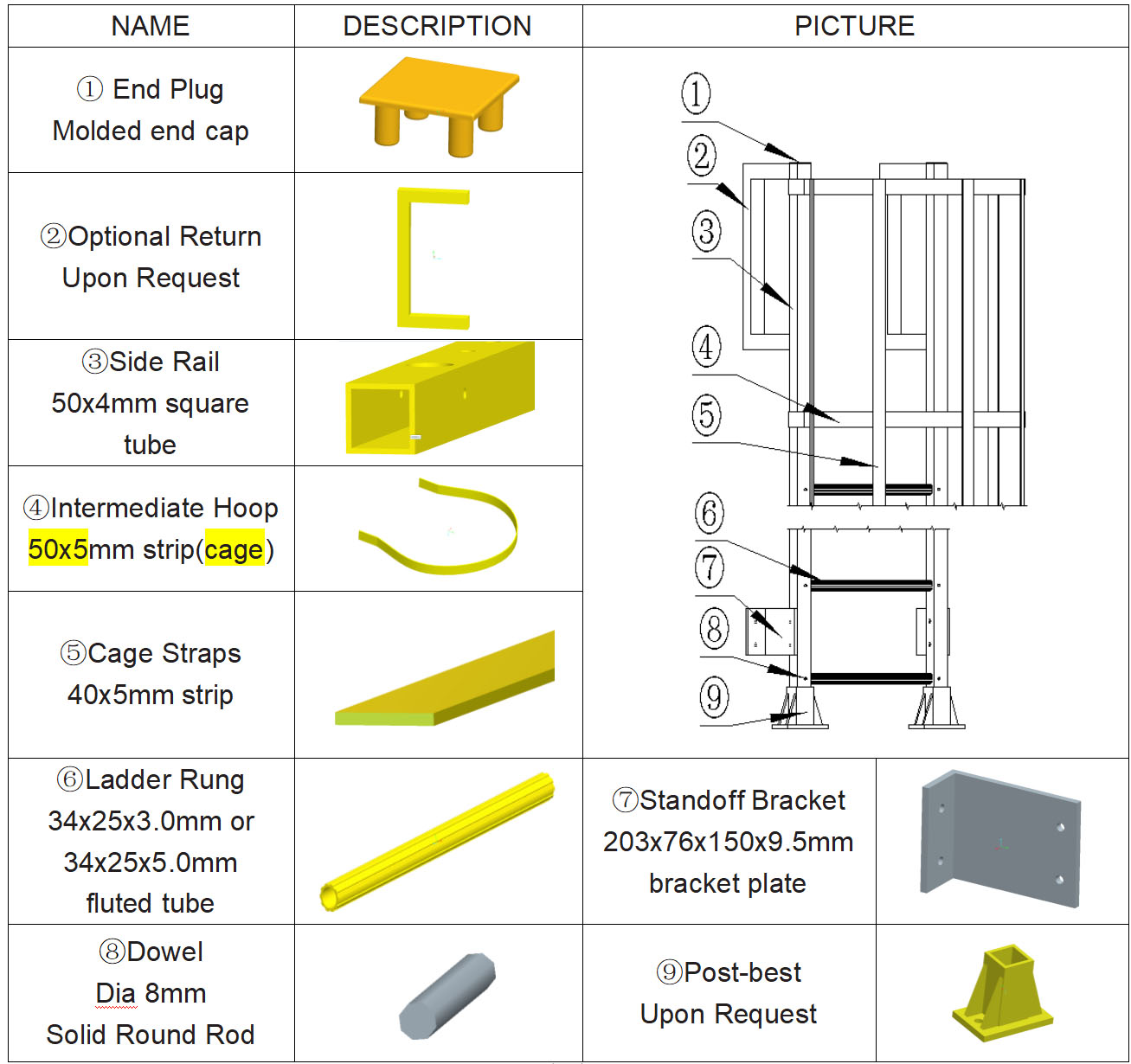 Materials of Construction

Our ladders and ladder cage systems are produced using a premium grade polyester resin system with flame retardant and ultraviolet (UV) inhibitor additives. A vinyl ester resin system is available upon request for additional corrosion resistance. Standard side rails and cages are pigmented to OSHA safety yellow. The rungs are a pultruded fiberglass polyester tube with a fluted, non-skid surface.
---
---
Write your message here and send it to us