FRP Pultruded Profile
Product Detail
Product Tags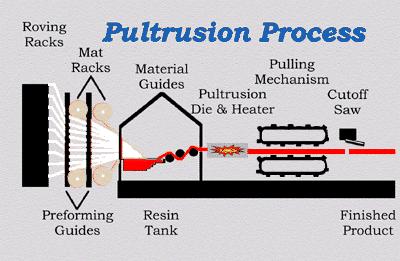 WELLGRID is your engineering partner for FRP handrail, guardrail, ladder and structural product needs. Our professional engineering and drafting team can help you find the right solution that meets your needs for longevity, safety and cost.
Light to weight
Pound-for-pound, Our pultruded fiberglass structural shapes are stronger than steel in the lengthwise direction. Our FRP weighs up to 75% less than steel and 30% less than aluminum – ideal when weight and performance counts.
Easy Installation
FRP costs on average 20% less than steel to install with less down time, less equipment, and less specialized labor. Avoid costly specialized labor and heavy equipment, and speed the construction process by using  pultruded structural products.
Chemical Corrosion
Fiber reinforced polymer (FRP) composites offer resistance to a broad range of chemicals and harsh environments. We offers a full corrosion resistance guide to ensure the performance of its products in some of the toughest conditions.
Maintenance Free
FRP is durable and impact resistant. It will not dent or deform like metals. Resists rot and corrosion, eliminating the need for constant maintenance. This combination of performance and durability offers the ideal solution in numerous applications.
Long Service life
Our products provide outstanding durability and corrosion resistance in demanding applications, providing improved product life over traditional materials. The longevity of FRP products provide cost savings over the product's life cycle. Installed costs are less because of the ease of installation. Maintenance expenses reduce because there is less downtime in areas requiring maintenance, and the costs of removing, disposing, and replacing the corroded steel grating is eliminated.
High Strength
FRP has a high strength-to-weight ratio when compared to traditional materials like metal, concrete and wood. FRP gratings can be designed to be strong enough to carry vehicular loads while still being less than one-half the weight of steel grating.
Impact Resistant
FRP can withstand major impacts with negligible damage. We offers extremely durable gratings to satisfy even the most stringent impact requirements.
Electrically & Thermally Non-Conductive
FRP is electrically non-conductive leading to increased safety compared to conductive materials (i.e., metal). FRP also has low thermal conductivity (heat transfer occurs at a lower rate), resulting in a more comfortable product surface when physical contact occurs.
Fire Retardant
FRP products are engineered to have a flame spread of 25 or less as tested in accordance with ASTM E-84. They also meet the self-extinguishing requirements of ASTM D-635.
Slip Resistant
Our molded and pultruded gratings and stairway products provide superior, slip resistant footing in wet and oily environments. Steel becomes slippery when oily or wet, but our gratings have a higher friction factory and remain safe even when wet.
Our slip resistant products increase safety for workers which will lead to fewer workplace accidents and a reduction of injury-associated costs.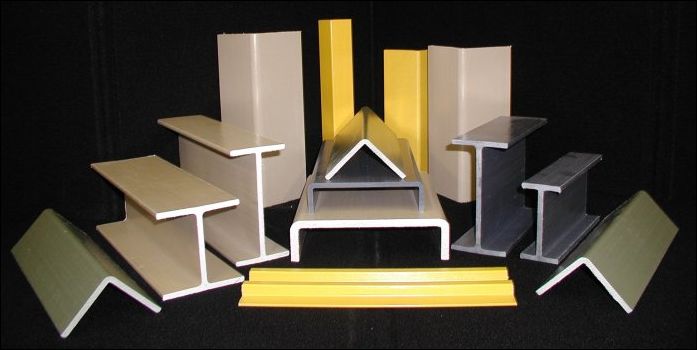 Our pultrusion structural profiles have high strength and modulus in lengthwise (LW) and crosswise (CW) and meet the relevant Europe and America standards; they are used widely abroad in cooling tower, power industries. Please contact us for having details for the pultrusion structural profiles. 
We supply FRP pultrusion structural profiles meet EN 13706 standard with below properties.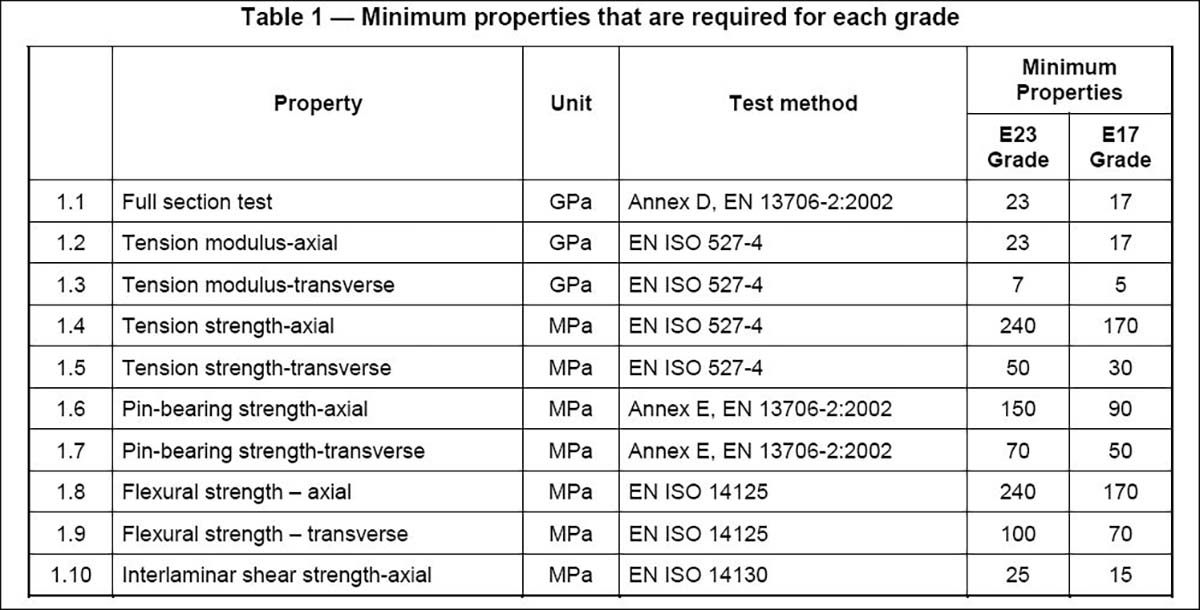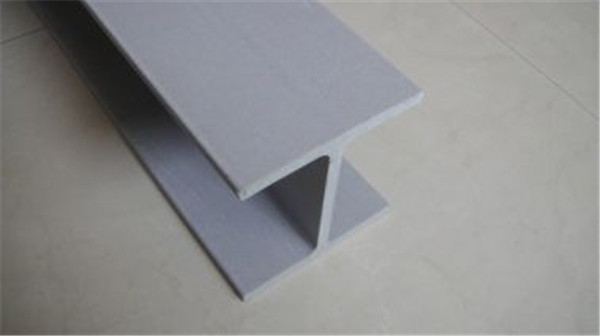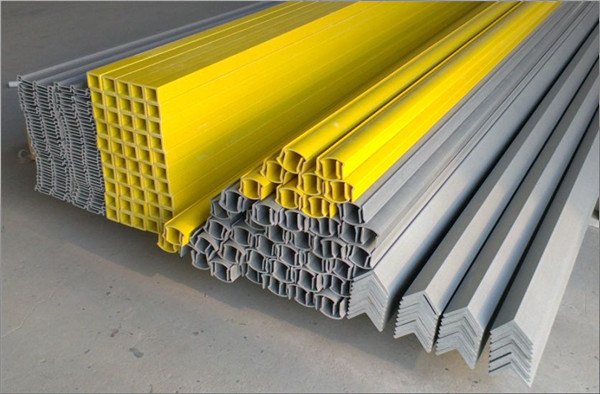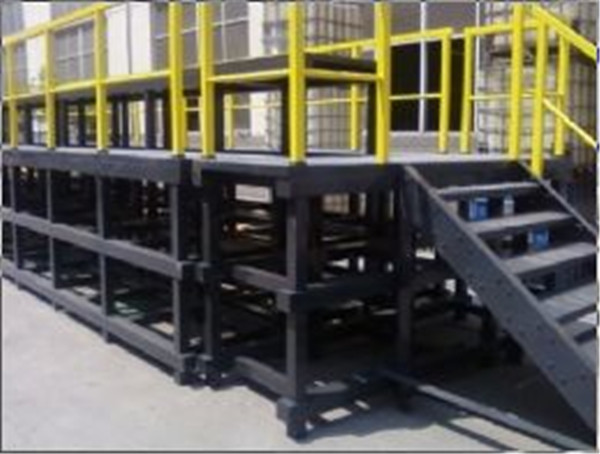 Angle
Channel
I Beam
WFB Beam
Square Tube
Round Tube
Solid Round
Kick Plate
Ladder Rung
Omega Toprail
Strut
Angle

H(mm)

B(mm)

T1(mm)

T2(mm)

(mm²)

(g/m)

 

25

25

3.2

3.2

153

290

30

20

4

4

184

350

30

30

3

3

171

325

40

22

4

4

232

440

40

40

4

4

304

578

40

40

8

8

574

1090

50

50

5

5

475

902

50

50

6.4

6.4

604

1147

76

76

6.4

6.4

940

1786

76

76

9.5

9.5

1367

2597

101

101

6.4

6.4

1253

2380

101

101

9.5

9.5

1850

3515

101

101

12.7

12.7

2425

4607

152

152

9.5

9.5

2815

5348

152

152

12.7

12.7

3730

7087

220

72

8

8

2274

4320
Channel

H(mm)

B(mm)

T1(mm)

T2(mm)

(mm²)

(g/m)

40

20

4

4

289

550

50

14

3

3

220

418

75

25

5

5

576

1094

76

38

6.4

6.4

901

1712

80

30

3.1

3.1

405

770

101

35

3.2

3.2

529

1006

101

48

3.2

3.2

613

1165

101

30

6.4

6.4

937

1780

101

44

6.4

6.4

1116

2120

150

50

6

6

1426

2710

152

35

4.8

4.8

1019

1937

152

48

4.8

4.8

1142

2170

152

42

6.4

6.4

1368

2600

152

45

8

8

1835

3486

152

42

9.5

9.5

2077

3946

178

60

6.4

6.4

1841

3498

203

55

6.4

6.4

1911

3630

203

55

9.5

9.5

2836

5388

254

72

12.7

12.7

4794

9108
I Beam

H(mm)

B(mm)

T1(mm)

T2(mm)

(mm²)

(g/m)

25

15

4

4

201

381

38

15

4

4

253

480

50

15

4

4

301

571

76

38

6.4

6.4

921

1749

102

51

6.4

6.4

1263

2400

152

76

6.4

6.4

1889

3590

152

76

9.5

9.5

2800

5320

203

101

9.5

9.5

3821

7260

203

101

12.7

12.7

5079

9650

254

127

9.5

9.5

4737

9000

254

127

12.7

12.7

6289

11950

305

152

9.5

9.5

5653

10740

305

152

12.7

12.7

7526

14300
WFB Beam

H(mm)

B(mm)

T1(mm)

T2(mm)

(mm²)

(g/m)

76

76

6.4

6.4

1411

2680

102

102

6.4

6.4

1907

3623

100

100

8

8

2342

4450

152

152

6.4

6.4

2867

5447

152

152

9.5

9.5

4250

8075

203

203

9.5

9.5

5709

10847

203

203

12.7

12.7

7558

14360

254

254

9.5

9.5

7176

13634

254

254

12.7

12.7

9501

18051

305

305

9.5

9.5

8684

16500

305

305

12.7

12.7

11316

21500
Square tube

H(mm)

B(mm)

T1(mm)

T2(mm)

(mm²)

(g/m)

 

15

15

2.5

2.5

125

237

25.4

25.4

3.2

3.2

282

535

30

30

5

5

500

950

38

38

3.2

3.2

463

880

38

38

6.4

6.4

811

1540

40

40

4

4

608

1155

40

40

6

6

816

1550

44

44

3.2

3.2

521

990

44

44

6.4

6.4

963

1830

45

45

4

4

655

1245

50

25

4

4

537

1020

50

50

4

4

750

1425

50

50

5

5

914

1736

50

50

6.4

6.4

1130

2147

54

54

5

5

979

1860

60

60

5

5

1100

2090

76

38

4

4

842

1600

76

76

6.4

6.4

1795

3410

76

76

9.5

9.5

2532

4810

101

51

6.4

6.4

1779

3380

101

76

6.4

6.4

2142

4070

101

101

6.4

6.4

2421

4600

101

101

8

8

2995

5690

130

130

9

9

4353

8270

150

150

5

5

2947

5600

150

150

10

10

5674

10780

 

 

 

 

 

 
Round tube

D1(mm)

D2(mm)

T(mm)

(mm²)

(g/m)

 

19

14

2.5

128

245

24

19

2.5

168

320

25.4

20.4

2.5

180

342

30

24

3

254

482

32

26

3

273

518

40

32

4

452

858

50

42

4

578

1098

50

40

5

707

1343

50

37.2

6.4

877

1666

65

52.2

6.4

1178

2220

76

63.2

6.4

1399

2658

101

85

8

2337

4440
Solid round

D(mm)

(mm²)

(g/m)

7

38

72

8

50

95

10

79

150

12

113

215

15

177

336

18

254

483

20

314

597

25

491

933

38

1133

2267
Kick plate

B(mm)

H(mm)

T(mm)

(mm²)

(g/m)

100

12

3

461

875

100

15

4

579

1100

150

12

3

589

1120
---
Previous:
frp molded grating
---
Write your message here and send it to us